6 Healthy Smoothie Recipes That Are Delicious and so Simple to Make
These healthy smoothies are full of the nutrients and protein you need.
Smoothies are a staple among health junkies, and we have to agree: they're ridiculously easy to make, filled with fruits and veggies, and make you feel like a pro when you whip up a particularly delicious blend. It's unsurprising, then, that smoothies have become a regular menu item at fast-food joints across the nation—but not all smoothies are created equal, and you're better off skipping many of those high-calorie, sugary drinks disguised as a healthy option.
If you're looking to put your own blender to use and start making smoothies at home, you're already one step ahead, saving yourself money and ensuring you have full control over what goes in. These delicious, healthy smoothies make it easier to eat right with fruit, milk, protein, immune-boosting yogurt, and other nutritious ingredients—and they're great for helping you slim down. Just a note: Some of these recipes contain fruit juice or honey to up the sweetness, but if you're looking to cut added sugar from your diet, you can nix those ingredients.
Many of these tasty drinks are from The Big Book of Smoothies and & Soups by our partners at Women's Health, and we've also rounded up more refreshing recipes from bloggers and our own archives. Give these all-star smoothies a try, and feel free to tweak and experiment to create your own perfect blend!
Peanut Butter and Jelly Smoothie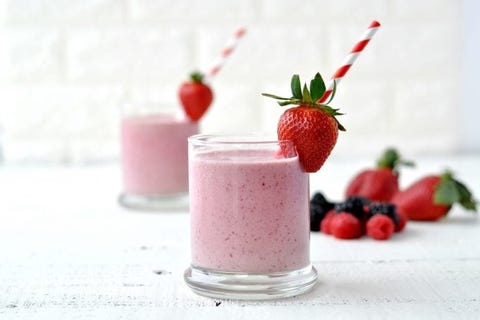 Here's a breakfast smoothie to start your day off right. Mixed berries and peanut butter powder give this healthy smoothie the taste of your favorite childhood sandwich, the PB&J; plus, vanilla protein powder gives an extra power boost.
---
Banana Ginger Smoothie
Soothe digestion, heartburn, nausea, and other stomach trouble with the fresh ginger in this natural remedy smoothie recipe.
Servings: 2
1 banana, sliced
¾ c (6 oz) vanilla yogurt
1 Tbsp honey
½ tsp freshly grated ginger
Combine the banana, yogurt, honey, and ginger. Blend until smooth.
Nutrition (per serving): 157 cals, 1 g fat, 0.8 g sat fat, 57 mg sodium, 34 g carbs, 28 g sugars, 1.5 g fiber, 5 g protein
---


Detox Green Smoothie with Chia Seeds
If you haven't tried chia seeds yet, here's a great opportunity. This superfood ingredient gives you a burst of energy and helps you stay full longer; plus, they go with practically everything. Not everyone loves their texture, but when they're blended into a delicious smoothie, you won't even be able to detect them (while still reaping all their benefits). And as this blogger points out, they're also packed with antioxidants and boost your metabolism. Combined with spinach, unsweetened almond milk, frozen pineapple, and naturally sweet banana, this tasty mixture is the ultimate breakfast treat.
---


Apple Crisp Smoothie
Savor the taste of fall with apple cider that's blended with Greek yogurt, rolled oats, pecans, cinnamon, and nutmeg. This delicious smoothie is rich in protein and beta-glucan, a fiber that improves running endurance.
---


Orange Dream Creamsicle
Need to cool down after a tough workout or a hot day at the beach? Lap up this low-cal, citrus-infused healthy smoothie recipe.
Servings: 1
1 navel orange, peeled
¼ c fat-free half-and-half or fat-free yogurt
2 Tbsp frozen orange juice concentrate
¼ tsp vanilla extract
4 ice cubes
Combine the orange, half-and-half or yogurt, orange juice concentrate, vanilla, and ice cubes. Process until smooth.
Nutrition (per serving): 160 cal, 3 g pro, 36 g carb, 3 g fiber, 28 g sugars, 1 g fat, 0.5 g sat fat, 60 mg sodium
---


Caramel Apple Overnight Oatmeal Smoothie
This vegan, gluten-free breakfast smoothie is absolutely perfect for crisp fall mornings, and it'll keep you satisfied for hours. Don't worry: There's no caramel in this delightful recipe; instead, this blogger utilizes "nature's caramel" (dates) to add sweetness along with antioxidants, fiber, and minerals. Rolled oats also pack extra fiber and protein, while apples and cinnamon give that undeniably fall taste. Oh, and there's chia seeds in this smoothie as well (because why not). This dreamy mixture sits in the fridge overnight, saving you so much time in the mornings. Just blend and go!
---
Loading...